When creating website content, keyword research is very important, but some people find it difficult to do it. Well, this article will discuss the correct way of keyword research to get potential keywords and get a lot of traffic.
Before going into how to do keyword research, you must first understand what it means.
What is Keyword Research
Keyword research is the process of determining what keywords are suitable to use when creating articles on a blog or website. By doing research, you can find out what phrases people use when searching on search engines like Google, Bing, and so on.
When you do research you can find out about what keywords have the potential to be used as content. When you get potential keywords you can more easily get traffic or visitors to your website.

Types of keywords are divided into 2 namely; Short Tail Keywords and Long Tail Keywords. But some people say there are 4 plus keywords perennial and seasonal keywords. After knowing about this one, continue to know about how important keyword research is.
Why Keyword Research Is So Important
You
may ask, How important is keyword research? Keyword research serves to determine potential keywords or find out what topics people are looking for on Google.
When you know what topics people are looking for on Google, you can create quality articles by targeting those keywords. With this research, you can also find out the estimated number of visitors who are looking for keywords and see the competition on search engines.
If you don't do keyword research you won't be able to find out the number of searches and the difficulty level of the keywords you're targeting.
For
example, you create content by targeting keywords according to your wishes, after you check the article you created is on page one of search results. But the article doesn't get any traffic, when you check it turns out that the keyword is low search volume and low difficulty level.
Another
example, you are targeting the keyword "Selling Men's Shirts" When you don't do your research you won't know the difficulty level of the keyword. Even though these keywords have a high level of difficulty because the types of commercial keywords and page one are mostly filled by marketplace websites such as shopee, tokopedia, etc. So you will be in vain creating content with these keywords.

That's an explanation of how important it is to do keyword research. So, before you learn how to do keyword research, you must first know the metrics that must be considered in doing keyword research.
Metrics to Look For When Doing Research
There are several metrics that you should pay attention to when doing your research. What are these metrics? Let's see the explanation
id="1-volume-pencarian">1. Search Volume

The first metric is search volume. When doing research you have to look at how many people are using that keyword. Usually the number of search volumes displayed in keyword research tools is the number of searches each month.

You are free to determine the amount of search volume you are targeting, at least the search volume is above 500 per month.
2. Keyword Difficulty
This metric shows the difficulty level of a keyword that is on the first page of search results. The higher the KD value, the more difficult it is to compete on page one of Google. Usually indicated with a value of 1-100.
This metric must be very careful, make sure your keyword difficulty level is low. Unless your website already has high authority, you can target keywords with high KD.
Usually the higher the KD, the greater the search volume. For those of you who are new to creating a website, at least you target keywords with KD below 20 on a scale of 1-100.
3. Keyword Suggestion
This metric shows about the keyword suggestions of the main keywords that you are targeting. Generally, this metric will provide long tail keyword suggestions that are relevant to the keywords you are targeting.
Long
tail keywords are keywords that contain at least three or more words. You can make keyword suggestions the title of your content. Using long tail keywords has the potential to attract more visitors.
Keyword suggestions can also be said to be keyword variations that you can use in your article content. Applying long tail keywords/keyword variations in the content is highly recommended because it has the potential to get more visitors.
4. Search Engine Result Page
SERP functions to view and show pages that occupy page one of search results based on the keywords you research. This metric is very useful for seeing who is on page one of google.
After you know about the metrics that need to be considered, you can immediately practice using the following keyword research tools. This tool has a paid version and a free version. Here is a list of the best keyword research tools:
1. Ubersuggest by NeilPatel
Ubersuggest by Neil Patel is the best free keyword research tool at the moment. This research tool provides very complete metrics, you can even say freemium tools or free tools with premium features.
How to research keywords with Ubersuggest is very easy, you just enter the keywords you want to research, and later metrics will appear that you can analyze. Because it's a free tool, some metrics like search volume aren't very up to date. But you can be used as a benchmark because the data is not much different.
2. Google Keyword Planner
Google Keyword Planner is Google's free research tool, you can freely use this keyword research tool as much as possible. With this tool you can find out the estimated traffic from the target keywords that you use.
It's quite easy to use, just enter the targeted keywords and you can see some metrics such as Keyword Suggestion etc.
3. Google Related Search
When you type a keyword in Google, you will get several keyword recommendations. Google will provide long tail keyword suggestions related to the keywords being searched in real time.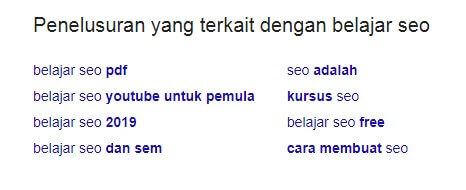 Google Related Search can only show keyword suggestions, you can't look at metrics like Search Volume and Keyword Difficulty to find out how difficult the keyword competition is.
4. Ahrefs
Ahrefs is the best paid keyword research tool, this tool provides very complete metrics and the data is updated every hour. That way you can more easily do keyword research.
But unfortunately the price of subscribing to this keyword research tool is very expensive, you have to at least prepare $99 every month. The price is comparable to the features in it. With Ahrefs you can do Site explorer, Keywords explorer, Site audit, Rank tracker, Content explorer.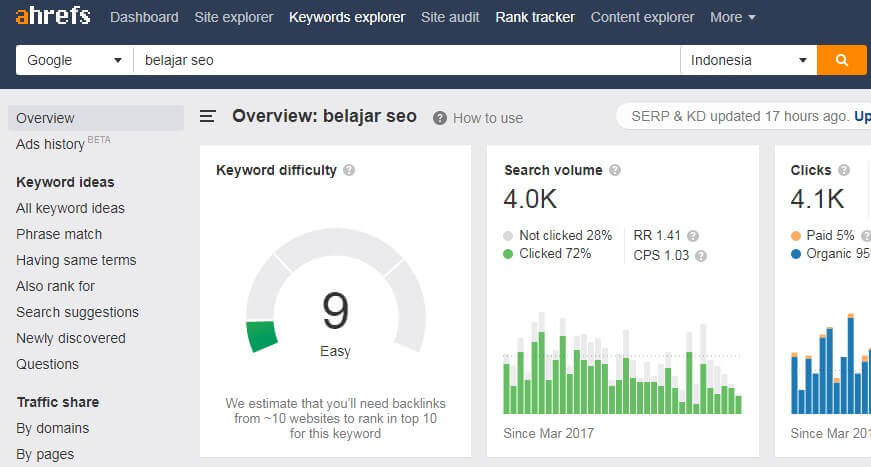 Here's how to do keyword research using Ahrefs:
Open Ahrefs Keyword Explorer
Enter the keyword to be researched and press enter
After the data appears, do analysis and research on the data, such as search volume, keyword difficulty, and keyword ideas.
Determine the keywords that you think are suitable to be targeted
In conducting Keyword Research, Ahrefs has many advantages such as very complete and always updated data, serp positions, to information on the estimated number of backlinks to enter page one. With this feature you can more easily find potential keywords.
5. Semrush
As with other keyword research tools, this tool provides a feature to analyze a keyword. Semrush provides paid and free versions, the free version you get access to do keyword research 10 times in 24 hours.
To use the free version you are required to register an account first. Free version account access on SEMrush is limited. You can't see all the keyword suggestions generated. To get more information you have to use the paid version.
6. MOZ
Similar to Semrush, this keyword research tool also provides paid and free versions. You must first register as a member to be able to do keyword research for free. In the free version you can get access to do 10 keyword research.
Using the free version of MOZ does not give maximum results. The results of keyword research do not provide complete information, such as the search volume per month and the SERP shown only to the top three sites.
Keyword Research Tips and Methods
When doing keyword research, there are several tips and ways so that the targeted keywords have the potential to get page one. So what are the tips and tricks?
When doing keyword research, you should pay attention to key metrics like Keyword Volume and Keyword Difficulty. These two metrics will be analyzed first to determine the main keywords.
When analyzing these two metrics, it is important to pay attention to these two metrics, because usually the higher the search volume, the higher the keyword difficulty. Therefore, make sure that the difficulty keyword is not more than 20 if your website is new.
You can search for keywords with KD above 20 with a comparable or large search volume, as long as you are sure of the keywords you are targeting, your website can be on page one.
That's some information about how to do keyword research and supporting tools in doing research. From now on you can learn seo to be able to target keywords with a large search volume even though the KD is high.
Create by Ipadguides in category of Website