Have you created a content calendar for social media? How important is planning content for social media? Why? The social media content calendar will help you plan the few weeks of high-quality content that you will post to your social media audience.
Organizing the content to be posted will help you save time and not only that, you won't have to worry about what you're going to post next.
Want to know how to create calendar content to build a brand? Or do you want to have your own content calendar template? Well this article is for you
How Important Is Creating a Social Media Content Calendar
How important is it to create a social media content calendar? Maybe it was explained a little in the intro earlier. However, there is much more that you can get when you start planning and compiling the content that you will post on your social media.

Do you believe that Consistency is one of the keys to success in Social Media Marketing?
Posting regularly on social media is essential to keep your followers engaged with your content and brand. That's what you can achieve if you start planning your content ahead of time with a social media calendar.
When
you start consistently posting content on your social media, the more likely they are to remember your brand, the more likely they are to make a purchase from you. I think we can all agree on that.
Creating a Content Calendar Template
To make it easier for you to plan content for social media, a platform is needed. One of the platforms that you can use to create a content calendar is Google

Sheets.
Google Sheets is very easy to use, and it's free. You just need a google account to access this tool. In less than 10 minutes, you can create an effective social media content calendar.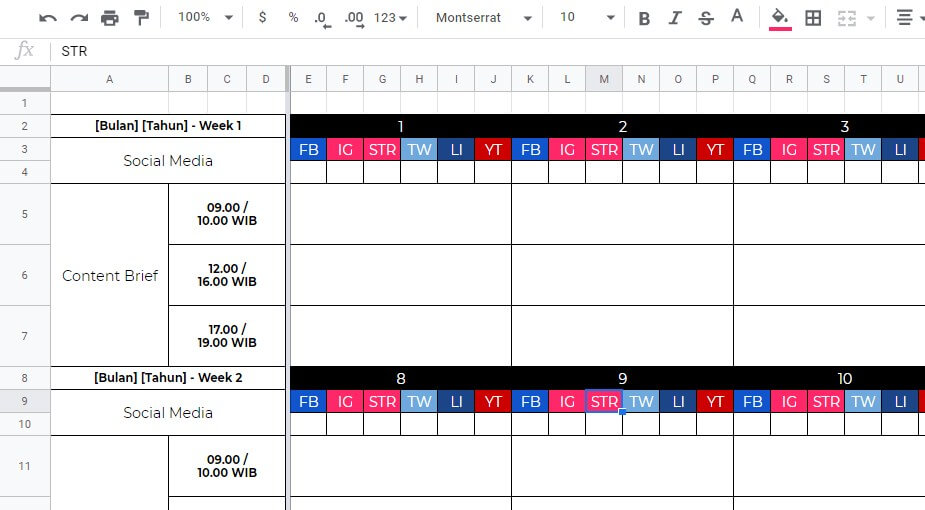 The image above is a content calendar template that we have used so far, this template is perfect for compiling and planning content created for social media. To use and download the content calendar template for free, you can click the link.

Of course, if you decide to use this template, you can customize it to fit. For example, changing the social media used, the time of posting and the month and year.
In addition to using Google Sheets, you can use Trello. Trello is an easy-to-use, very flexible and free tool. Trello is best suited for those of you looking for a social media calendar that has a visual layout that resembles a traditional calendar, rather than a spreadsheet like Google Sheets.
id="merencanakan-konten-yang-akan-diposting">Planning the Content to Post

When creating content, we must create interesting content and make the audience like posts on your social media. But, How to create content that attracts an audience?

The answer is in yourself as a social media manager. If you know who your audience is, you will find it easier to plan content that will be posted later.

What you need to know is that interesting content is content that resonates with audiences and different content resonates with different audiences.

Therefore, you need to figure out which content best suits your audience before you start filling out your social media calendar. You can use the help of tools to find out your audience, what your audience likes, and when your audience is online.

You can find this out by taking advantage of Instagram's Analytics Tools, these tools will help you find out what type of audience you are and what content your followers like the most.

With that, you can start to determine ideas about the type of content that is most suitable for your audience and when is the right time to post it.
id="menghasilkan-konten-berkualitas-tinggi">Produce High Quality Content
Once you have an idea about the type of content that is most suitable for your audience, you have the option of creating social media content. You need to create content or content sources for your social media channels.
Now, if you are smart in creating social media content you can more easily strengthen branding. For that you have to produce high quality content. High-quality content means the content you create is liked by your target audience.
To be able to produce high-quality content, you can look for content ideas by surfing social media, monitoring competitors' social media and looking for viral information. That way you can produce high-quality content for your audience.
In creating a content calendar, you must schedule the content that you will post later. This method is the most difficult, because we have to schedule a time to post content ideas that have been created in the content calendar.
You have to be smart in scheduling the content you have planned, don't let the content you plan go out of date or post it too late. Make sure when there is information that is viral and suitable for your audience, immediately create content and post it, so that you get hype from your content.
After you have scheduled and created the content, you can use a tool to post it. You can take advantage of buffer and HootsuiteBoth Buffer and Hootsuite are excellent tools that allow you to link all your social media accounts and pre-schedule your content posts in one place.
You'll also gain access to valuable insights into the performance of that social media campaign, such as your most successful posts, the best times to post or post content.
That's information about how to create a social media content calendar that you can practice, you can also use the content calendar template to make it easier for you to manage, organize and plan your content.
Create by Ipadguides in category of Website